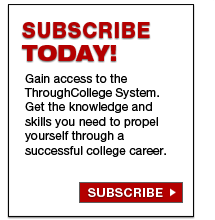 Benefits

- Students
- Parents
- Counselors, Teachers, & Mentors
- Colleges & Universities
"The best way in is through." The ThroughCollege System helps you set long-term goals and develop a plan to achieve them. This strategy helps you get accepted to the best schools for you while also giving you the best chance to get accepted to the best schools. It also helps you rise above the anxiety that dominates the college application process in United States high schools. The Four Steps of the ThroughCollege System provide you with detailed guidance:




By subscribing to ThroughCollege, you receive one year of access to all the ThroughCollege activities (delivered in PDF and/or Video format) listed below.





Self Discovery & Experience. Seek out new experiences and define the experiences in your life that have been most meaningful to you. Learn what your experiences have taught you about your values, strengths, and interests and what you want to do in college and life.


Activities:
Lifeline. Create a "lifeline" to understand more about your life through identifying your most significant life experiences.

Past & Present Experiences. Learn how to reflect and learn about yourself through the life and school experiences that you are having.

Future Experiences. Identify prime future experiences to encounter to learn more about who you are and what you want to do in the future.

Values. Identify the most important values that guide your life and live more consistent with what you value.

Strengths. Identify your foundational strengths that will help you to become successful in college and your career.

Passionate Interests. Undertake a systematic process of identifying what your most passionate interests are.


Success Strategizing & Planning. After you start to discover yourself, think strategically about who you would like to become. Create a vision with goals and an action plan to realize college and life success.


Activities:
Vision. Create a vision for what a tremendous college experience could be like you so you can start to realize it.

Goals. Get strategic identifying systematic goals to begin to realize your vision for a peak college experience.

Action Plans. Create an action plan to achieve your college goals and take the first steps that will matter most.

What's My Calling. Identify career areas that match your strengths and interests and think even more specifically and creatively in terms of your career or future major.


College Selection - take all you've learned so far and use it in a thoughtful way to select and apply to a college. The earlier steps of the ThroughCollege system prepared you to navigate through this part of the system. There are three components to it: creating a list of colleges to apply to, completing the applications, and making a final decision.


Activities:
Creating a list of schools to apply to is important because you'll attend college at one of the schools on the list. By following the nine activities listed below, you'll create a list with schools that are right for you. There are 6,500 colleges in the United States .in order to narrow down your options to a final list of at most 10 schools, you'll need to do some work. It'll be worth it. You'll have a great list of colleges to apply to.


Academics: Find the courses of study to help you achieve the career goals you've defined.

Financial Aid: Learn how to get the money you need to attend the college you want.

Standardized Tests: Prepare for the standardized tests you'll need to take.

Your Academic Profile: Track your progress on classes, GPA, and test scores. Set realistic goals.

Location: Decide where you want to spend four years of your life.

Extracurriculars: Determine what activities are important to you and your college experience.

Size: Decide on the college size and atmosphere that works best for you.

Creating your College List: Take all of the knowledge you've gained in the previous seven activites to create a list of at most 10 schools to apply to. Sort them in Safety, Target, and Reach categories.

Advice from trusted peers: You've made your list. Now get some input from people you trust.
Completing your applications can be time consuming, but it is a required step! The ThroughCollege system will help you complete your applications in an efficient and organized way:


Applying Early or Not: Decide to apply Early Decision or Early Action.

Organizing the Application process: Use the Master Planning Sheet to track the process.

Writing Essays: Find the best way to tell your unique story.
Making the final decision on where to go to college is exciting. It can also be challenging. The ThroughCollege System will help you make the best choice for you and help you make a smooth transition to college.


Campus Knowledge: Find the information you need to make the best choice.

Making the final choice: Decide where you'll attend college.

Preparing to go: Make a smooth transition to college.



Creating, Developing & Innovating. Make the college experience a peak one by learning tools to continually develop and innovate yourself through college and into life.


Activities:
Brainstorming. Use the innovation tool of brainstorming to generate ideas for an important question you have.

Mind Mapping Success. Break down what college success can look like for you with an innovation tool that is visual and works like the mind does.

Innovating Yourself. Complete the circle and continually think about who you are through formally seeing what has changed about you and your vision.